We are members of the Texas Military Veteran Peer Network and encourage you to join at http://www.milvetpeer.net/. Once you have joined, please sign up the the Central Texas Killeen Chapter and you will have access to more information regarding Peer resources available.

Our volunteers are professionals who give their time and talent to help serve those who have Post Traumatic Stress Disorder, Traumatic Brain Injury, Sexual Assault and other traumatic events in their lives. We also have trained Veterans Service Officers who can help you. We offer a variety of assistance on a case by case basis. We want to be your "travel companion" and help you get to where you need to be.
Military Support Program—Veterans' Service Officer available
By appointment Monday through Saturdays. After hours, Sundays and Holidays.
https://www.cushycms.com/temporary_uploads/78327/Corpus Christi Results after implementing Peer to Peer.png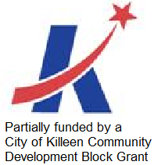 Our Military Support Program is partially supported by grants from Hill Country Community Action, Bell County Commissioner's Court, the City of Killeen Community Development Block Grant Program with funding received from the U.S. Department of Housing and Urban Development, and the Texas Veterans' Commission, Fund for Veterans Assistance. "This program is supported by a grant from the Texas Veterans Commission Fund for Veterans' Assistance. The Fund for Veterans' Assistance provides grants to organizations serving veterans and their families." http://www.tvc.texas.gov/Home.aspx.
https://www.cushycms.com/temporary_uploads/78327/Financial Assistance Application 9-27-2017.pdf
https://www.cushycms.com/temporary_uploads/78327/Bell County Human Services Santa Pal Announcement 2017.docx


NOTE: We are no longer taking applications for Thanksgiving Food, Christmas Food and Santa Pal ages 2-12.

WE NEED YOUR HELP!
Our food pantry is always in need of support. We feed Service Members, Veterans and their families on an emergency basis when the Killeen Food Care Center is closed. Please bring your food donations by our office. You can also make a contribution using the donate botton above. Thank you for your support. We are also in need of book bags filled with school supplies for children. We are also starting to collect new toys for our Santa Pal Program. Please think of us when you are looking to help others.
204 Priest Drive
Killeen, TX 76541
Maililng address: PO Box 763, Killeen, TX 76541
Ph: 254-681-9112, 254-423-7632
Fax: 254-519-3366
24/7 line 254-813-5834

Please mail your financial contributions to Bring Everyone In The Zone, Inc. at 204 Priest Drive. Killeen, TX 76540-0763
https://www.cushycms.com/temporary_uploads/78327/Comprehensive Assessment of Veterans Supports and Services - Updated 12-7-2015.xls